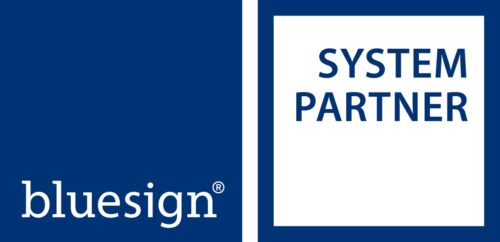 Xplor is one of the first Danish companies to become bluesign® system partner.
The partnership strengthens our commitment to producing sustainable workwear of the highest quality and provides customers with additional guarantees of transparent and environmentally friendly production processes.
bluesign® system unites players throughout the supply chain – from chemical suppliers and textile manufacturers to commodity suppliers and brands – to jointly reduce their impact on people and the environment. With its holistic approach based on Input Stream Management, bluesign® system also ensures responsible use of resources and guarantees the highest level of consumer safety.
Transparency in the supply chain
The purpose of bluesign® system is to ensure transparency in the production chain, where all textile components are produced in an input stream management system before the manufacturing process itself begins. In this way, substances that pose a risk to humans and the environment are eliminated from the very beginning.
At Xplor, we are convinced that the best way for the industry to achieve a sustainable future is through transparency and collaboration. By strengthening cooperation in the supply chain and through intense cooperation with our partners, sustainability will develop as a positive consequence. Sustainability as a result of initiating transparency – this is Xplor's ultimate goal, and our business strategy is built around it.
An important milestone
Since 2004, Xplor has set the standard for durable and innovative workwear. We already use several bluesign® certified materials produced in collaboration with long-standing partners and we look forward to expanding the collaboration through our new status as a bluesign® system partner.
This is an important milestone and one of the many steps we take to continuously improve our production processes, eliminate hazardous substances, and bring innovative and durable workwear to market. In addition, the introduction of bluesign® the system will further develop and increase the trust that our partners, customers, and end consumers have in us.
Last year, we introduced   STANDARD 100 by OEKO-TEX® on the majority of our laundry program to minimize the content of environmentally harmful substances. Since then, the range of products with the new labelling has grown. See all Xplor's OEKO-TEX® certificed products.
About bluesign®
Based on Input Stream Management, the bluesign® system ensures that approved chemical products and raw materials are used at all stages of the manufacturing process and that substances that pose a risk to humans and the environment are eliminated. This not only ensures that the final textile product meets very strict consumer safety requirements all over the world, but also gives consumers the confidence to acquire a sustainable product.
The aim of the bluesign® system is to create transparency for the entire textile supply chain in the five key areas: resource productivity, consumer safety, water consumption, air emissions, health and safety. bluesign® Technologies ag was founded in 2000 and since then bluesign® system has been adopted by the world's leading textile and accessories manufacturers.
Today, bluesign® system has become a guarantee of responsible and transparent production processes and the solution to sustainable textile production.
Read more at bluesign.com